Atlanta's Best Classic Rock and Blues!
Chequered Blue is a five-person band, based in West Atlanta.  We play a fun collection of classic rock, blues, soul & Motown with a few surprises thrown in at every show!  We love playing everywhere from blues juke joints and dive bars to restaurants, neighborhood block parties or porches, patios, & parking lots! We are also available for festivals and fundraisers, as well as upscale private parties, holiday celebrations, and corporate events!
Contact us to learn more or book us for your next event!
Next Up!
Friday, September 1, 2017 -
6:30-9:30 PM - St. Angelo's Pizza, Smyrna, GA
Friday, October 6, 2017 -
8:00-11:00 PM - Private Party, Conyers, GA
Wednesday, November 1, 2017 -
7:00-10:00 PM - Fanatics Sports Bar, Mableton, GA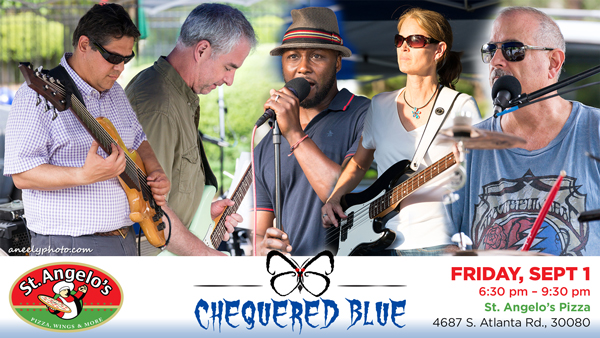 Just Played!
Sunday, August 20 -
7:00-10:00 PM - Fanatics Sports Bar, Mableton, GA
Sunday, July 2 -
7:00-10:00 PM - Fanatics Sports Bar, Mableton, GA
Wednesday, June 14 -
7:00-10:00 PM - Fanatics Sports Bar, Mableton, GA
Wednesday, May 10 -
8:00-11:00 PM - Fanatics Sports Bar, Mableton, GA
Saturday, April 29 -
4:00-8:00 PM - Block Party, West Cobb
Sunday, October 23 -
5:20 PM - Boxerstock, Jim Miller Park, Marietta, GA
Saturday, September 24 -
7:00-10:00 PM - St. Angelo's Pizza, Vinings, GA
Saturday, September 17 -
6:00-10:00 PM - Block Party, West Cobb
Saturday, June 18 -
7:00-10:00 PM - St. Angelo's Pizza, Vinings, GA

Audio
The Thrill Is Gone

Video
Johnny B. Goode

Johnny B. Goode

Fortunate Son

Johnny B. Goode

Hey Joe - clip

Hey Joe - clip

Chequered Blue
Members & Crew
Corey Waller:
Lead Vocals, hand percussion
Dianne DaLee:
Bass, backing vocals
Terry Heinlein:
Drums, backing vocals
Ramsey Mohandiss:
Lead & Rhythm guitars
Mark Kowal:
Lead & Rhythm guitars
Jim Farmer: Sound
Carol Brown: Roadie
Alex Neely: Photographer